VenueMagic SC+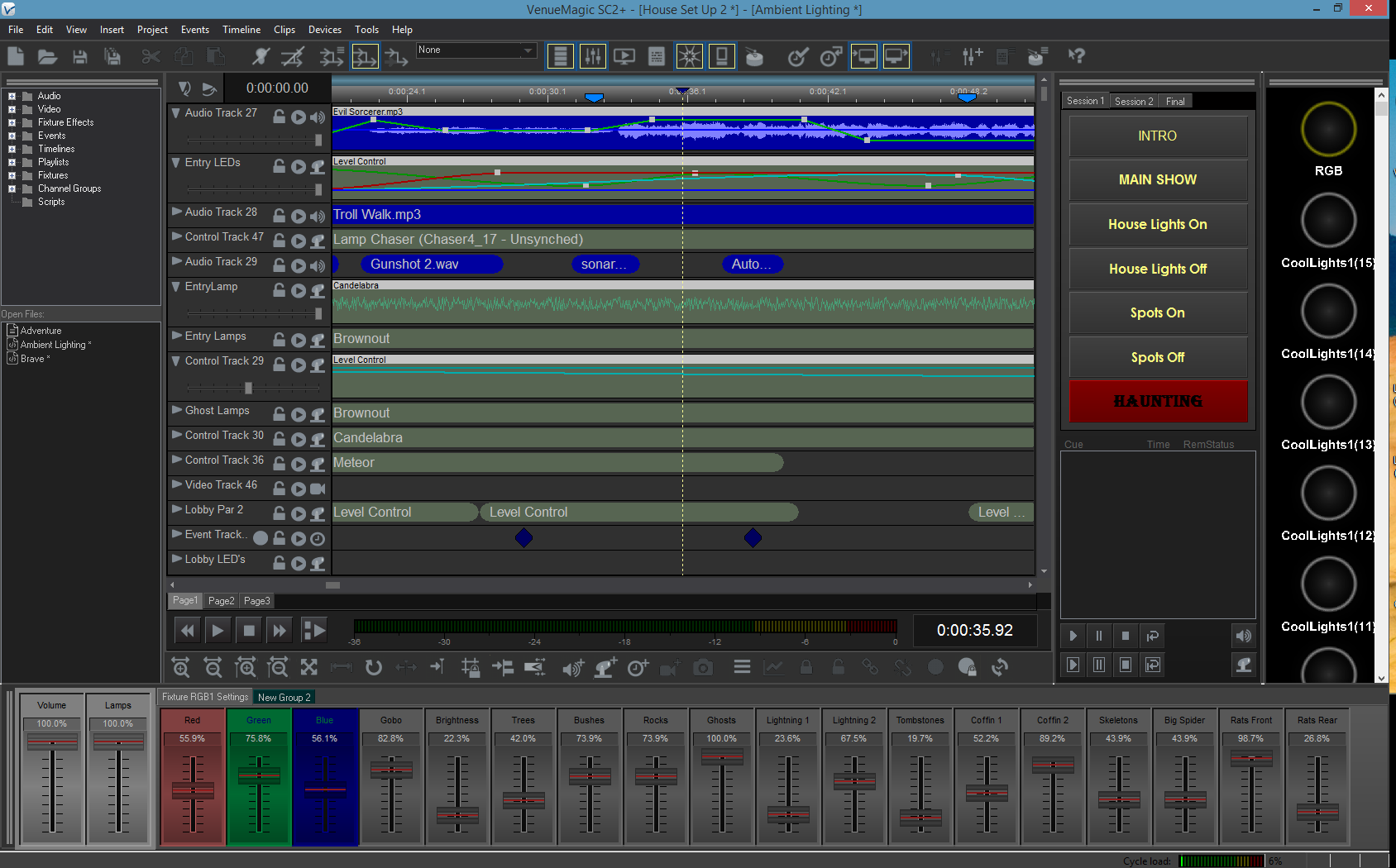 Video Playback
VenueMagic's video feature allows you to synchronize your light show with any Windows video file. Add your favorite videos in a single VenueMagic track and play them back to back. Supports dual monitors.
A built in library of lighting effects makes it easy to create your ultimate light show in no time. Simply select the effect you like and drag it onto the timeline where you want it. Invent your own lighting effects using using VenueMagic's envelope editor. Sync chaser effects to the Beat Tapper to give you complete real time control of chaser sequences.
Audio Editing
VenueMagic's powerful multi-track audio editing capability lets you put together your soundtrack inside VenueMagic as you build your show. Layer in effects such as reverb, echo, and flanging. There's no need to mix down your sound clips using a separate sound editing package. Supports MP3, Wave (.wav) and Windows Media (.wma) files.
Custom User Interfaces
Create beautiful custom user interface screens with VenueMagic Screens.  This powerful tool is included in VenueMagic SC+ and SC2+.  Click here for more information.
MIDI Control
Command your whole show using your favorite MIDI input device. Cue music and timelines and control light and volume levels on the fly. You can also send your synchronized MIDI events to other MIDI devices.
SMPTE/MIDI Sync
Sync timeline playback to external SMPTE (over serial port), MIDI clock or MIDI LTC sources. 
SMPTE Sync
Sync to SMPTE timecode received over the serial port. 
VMNet Sync
Sync to other VenueMagic timelines running.
Animatronics
VenueMagic SC+ includes several features geared towards animatronics, including:
Realtime-recording/playback of DMX, MIDI or PC joystick controls.

Looping and auto punch-in for record functions.

Graphical editing of recorded profiles.

Servo axis rest position.

Timeline ease-in (used with external sync)

Acceleration limiting.

Control axes using audio envelopes (Yak function)

Coordinate multiple channel movements with one input.
Listed here are just a few of VenueMagic's features and capabilities. You can also click on the links below to check out more features.
What you can do with VenueMagic:
Create spectacular shows with precisely synchronized audio and DMX lighting using a powerful, easy to understand graphical timeline-based editor.

Mix and edit multi-track audio for playback.

Control playback, lamp level and audio levels from an external MIDI, DMX or joystick device.

Run an unlimited number of timelines simultaneously. Overlapping channels are merged together.

Fully automate show playback with the date/time scheduler.

Perfectly blend on-the-fly manual lighting adjustments with playback of pre-built timelines.

Control other devices using MIDI messages.

Synchronize to external SMPTE or MIDI sources.

Run standalone shows with the Weigl Procommander Series.

Control light shows using Atomix Virtual DJTM
Features:
Multi-track timeline-based show design

Unlimited number of audio and lamp control tracks

Sync to external MIDI clock and LTC signals

Sync to SMPTE source over a serial port

Multi-track Audio playback and editing

Use audio envelopes to control channels (Yak function)

Single track Video playback

Simultaneous audio output through multiple audio devices

Control 512 DMX channels (1024 with DMX2+AV)

Multiple DMX interfaces supported:

Enttec Open DMX USB

Enttec DMX USB Pro

DMX4ALL

Velleman K8062

Artnet

MyDMX

DasLight/Sunlight SIUDI6

Weigl ProCommander Series

DMX Input (Artnet and Enttec DMX USB Pro only)

DMX, MIDI and Joystick input capability

Serial communications (send and receive)

Telnet server

Full-featured playlist

Programmable sliders

Programmable cue buttons

Conditional events for program logic

DMX channel routing and merging

Hundreds of pre-built fixture profiles for lots of manufacturers

Custom DMX fixture profile designer

Custom lamp chaser designer

Envelope editor for designing custom precision lighting effects

Event scheduler for long-term scheduling of timeline playback

Timeline markers for labeling important parts of timeline. Easy navigation between markers.

Choose from a library of pre-designed lamp effects or custom design one of your own

Ten levels of exclusive foreground cues

Unlimited background cues.

Timeline ease-in functions (for synching)

Programmable rest position (for servo/animatronics applications)

Acceleration limits (for servo/animatronics applications)
View more features specially suited for: