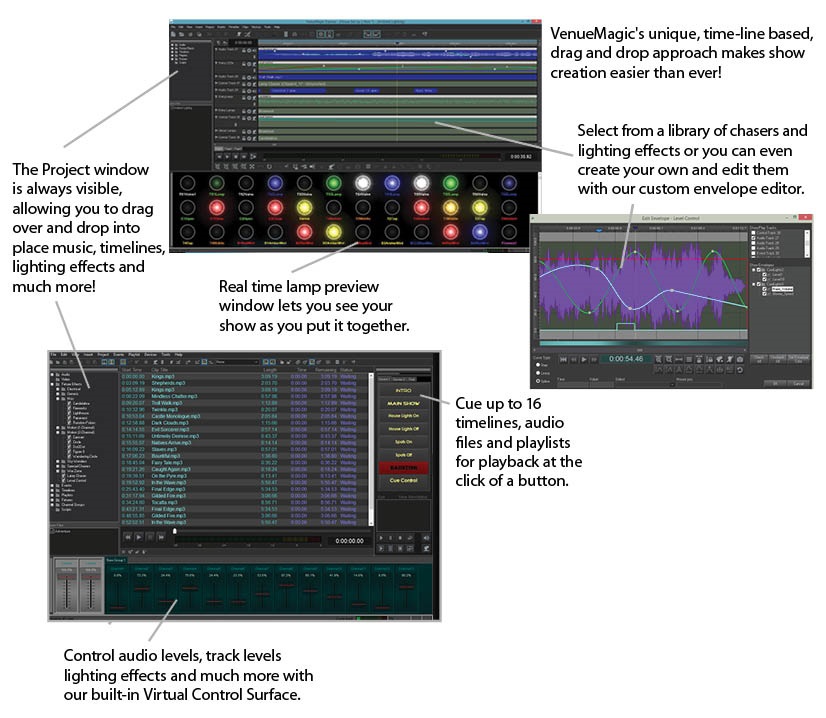 VenueMagic Classic Features
Listed here are just a few of VenueMagic's features and capabilities. You can also click on the links below to check out more features. Find out what VenueMagic can do for you!
What you can do with VenueMagic:
Create spectacular shows with precisely synchronized audio and DMX lighting using a powerful, easy to understand graphical timeline-based editor.
Mix and edit multi-track audio for playback to a single stereo pair.
Control playback, lamp level and audio levels from an external MIDI, keyboard or joystick device.
Run an unlimited number of timelines simultaneously. Overlapping channels are merged together.
Perfectly blend on-the-fly manual lighting adjustments with playback of pre-built timelines.
Features:
Multi-track timeline-based show design
Unlimited number of audio and lamp control tracks
Audio playback and editing (controls a single stereo output).
Control 512 DMX channels
Multiple DMX interfaces supported:

Enttec Open DMX USB
Enttec DMX USB Pro
DMX4ALL
Velleman K8062
MyDMX
DasLight/Sunlight SIUDI6

MIDI and Joystick input capability
Full-featured playlist
Programmable sliders
Programmable cue buttons
DMX channel routing and merging
Hundreds of pre-built fixture profiles for lots of manufacturers
Custom DMX fixture profile designer
Custom lamp chaser designer
Envelope editor for designing custom precision lighting effects
Timeline markers for labeling important parts of timeline. Easy navigation between markers.
Choose from a library of pre-designed lamp effects or custom design one of your own
Ten levels of exclusive foreground cues
Unlimited background cues.
View more features specially suited for: