Show Control Software
---
 VenueMagic Show Control Software
---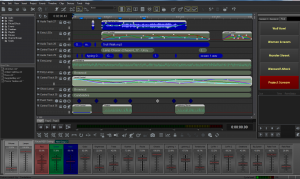 VenueMagic® Show Control Software lets you create spectacular lightshows with precisely synchronized video, audio and DMX lighting using a powerful, easy to understand graphical timeline-based editor.
Never have so many powerful features come together into a one, affordable show control software package.
VenueMagic's unique timeline-based approached to lighting control is easier to use than anything else out there.
Multi-track mixing of video, audio clips and DMX lighting effects lets you create shows with perfectly synchronized video, audio and lighting effects in no time.
VenueMagic is ideal for:
 DJ's, dances, clubs
 Attractions, halloween
 Stage, theater, pageants
 Church lighting design
 Architectural lighting
 Tradeshow display lighting
 School drama
 Museums
 Much more…
What you can do with VenueMagic
Create spectacular shows with precisely synchronized video, audio and DMX lighting.
Mix and edit multi-track audio for playback.
Playback video on a separate VGA, DVI or HDML monitor.
Control playback, lamp level and audio levels from an external MIDI, DMX or joystick device.
Run an unlimited number of timelines simultaneously. Overlapping channels are merged together.

Output different audio tracks to separate audio output devices.
Fully automate show playback with the date/time scheduler.
Seamlessly blend on-the-fly manual lighting adjustments with playback of pre-built timelines.
Control other devices using MIDI messages.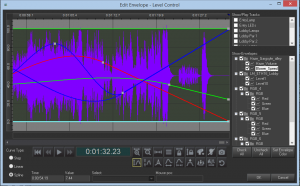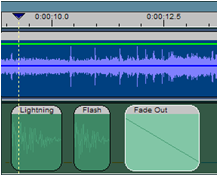 A Faster, Easier Solution to DJ Lighting Control
DJ and club lighting design are now easier than ever.  With most DMX software and hardware, designing a light show is a tedious and time consuming process, and most DJ's simply aren't interested in putting in all that time and effort for limited returns. VenueMagic makes the experience far more enjoyable by shortening the gap between dream and reality. The timeline editor is easy to use, and anyone experienced with audio editing software will quickly find himself in familiar territory. Drop chasers and other lighting effects onto the timeline just as you would an audio clip. Use the envelope editor to control lighting levels just as you would audio levels/effects. VenueMagic is DJ lighting software for the artist, not just for the engineer.
Great Idea for Haunted Houses and Other Thematic Attractions
Halloween lighting effects are no problem!  Haunted houses and other thematic attractions are what VenueMagic does best.  The built-in lamp effect library includes effects like lightning, explosions, candles, sparks, flashes and a lot more.  Create as many timelines as you like, each with their own audio, lamp effect and event control tracks.  Run multiple timelines together.  Merge multiple lighting effect tracks into the same DMX channel for some really amazing visuals.  There's even a library of over 200 sound effect clips to get you started.  All of this and more makes VenueMagic 
the perfect haunted house controller.  Haunt controller software has never been so easy to use.
Powerful Tool for Animatronics
VenueMagic's real-time recording features lets you route input from DMX, MIDI, Joystick or your PC keyboard to any DMX channels and then record them for later playback.  Edit the recorded data with a variety of intuitive graphical curve-editing tools.  This is ideal for recording and adjusting animatronic moves that need to be perfectly synchronized to video, audio and lighting effects.  Other features include timeline ease-in (important while using SMPTE/MIDI sync), programmable axis rest position, axis range limiting/calibration and acceleration limiting.
Dynamic Stage & Theater Productions
Synchronizing lighting effects to music and sound effects for stage and theatre can require hours of lay-out with cue sheets and lighting keys. Every second of a scene must be mapped-out in advance, often before a single step is entered. VenueMagic's visual timeline approach makes this process much simpler by putting the DMX512 controlled lighting effects and audio on the same timeline. Visually line-up your lighting effects to your music by simply dragging around effect clips.  Timing and level changes during rehearsals are also no problem.  The director will be amazed at how quickly you're able to respond to last-minute changes to the scene.  VenueMagic will even let you control cues and levels on-the-fly using your favorite DMX512 or 
MIDI
 console.
VenueMagic will interface with the following DMX512 adaptors:
Enttec Open DMX USB
Enttec DMX USB Pro
DMX4ALL
Velleman K8062 or VM116
Artnet
MyDMX
DASLight/Sunlight SIUDI6
WeiglWorks WEMC-1 ProCommander (www.weiglworks.com)

MIDI Control
VenueMagic easily interfaces with any MIDI device. You can control cues, lighting and audio levels from your favorite MIDI controller. VenueMagic can also send MIDI commands to trigger other MIDI devices.  Imagine controlling DMX512 fixtures with your MIDI controller.
Synching to External Sources
Synchronize timeline playback to external SMPTE (over serial port) or MIDI timecode. If you are running multiple VenueMagic's on a local area network, you can even synch them to each other. Supports non-linear synching and playback.