VenueMagic will be on the show floor in booth 414 at the 17th Annual Halloween & Attractions show (www.haashow.com). To setup a meeting at the show please email This e-mail address is being protected from spambots. You need JavaScript enabled to view it .
With special thanks to all of you who have worked so hard to help us test this new version of VenueMagic, we're proud to announce the official release of VenueMagic 2.6.  We've added several new features that make VenueMagic more powerful than ever.  For a complete list of new features, click "Read More".
We are in the process of releasing VenueMagic 2.6 today.  Registration and updates will not be available until the release is complete.  Stay tuned for the final release announcement.

VenueMagic will be at the TransWorld's Halloween & Attractions Show March 7th-10th in St. Louis, MO.
In addition to being on the show floor in Booth #414, VenueMagic will be controlling scenes at the Interactive Haunted House on the show floor.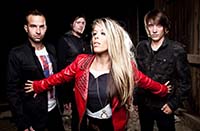 VenueMagic sits down with US rockers Blameshift to ask what VenueMagic has done for their live performance.

Watch the video here:
VenueMagic Artist Spotlight - Blameshift